I found some great blogs for Preschool/Toddler crafts. (Check out my blog list to the right) I've been trying to find things that I can do with Ellie while my husband is at work. I mean afterall, she's not on bed rest. :o) She wants to play.
So my plan thus far.......
1. Pinching Pom Poms/Matching
http://www.notimeforflashcards.com/
2. Marshmallow Letters and sorting sizes of Marshmallows: we love to work on a letter of the week so this is perfect & looks simple.
http://www.notimeforflashcards.com/
3. Spring Egg Heads: Alexandra and I are going to tag team this one together. Ellie & I will decorate the eggs and she'll plant the seeds with her. I ordered some egg holders. Hoping they'll arrive soon. She'll love this! She loves planting and gardening of any sort.
http://www.alicecantrell.com/blog/
Aren't they cute?!!
4. A Flowering Tree: she'll love this!
http://belladia.typepad.com/crafty_crow/toddlers/
This website has the crafts broken down into age groups.....I love it!
5. A Toddler Nature Hike: Ellie and I are going to make pictures for ziploc bags with items for her to find at the park. Than Alexandra or Daddy can take her when they get home. We're thinking after looking at a couple blogs: a stick, rocks, flower, a leave.
6. Spin Art Flowers: This looks like my favorite! She loves to use the salad spinner and I have an extra one.
http://jennwa.blogspot.com/2009/03/spring-flower-box.html
So, there's our plan! I'm so excited! We'll let you know how it goes.
We had a great night last night visting with my friend Dina. Thanks so much for bringing dinner, My friend! It sure made my day to have time to visit with you and have my first "Mini Burger!" Michael was also thankful when he got home last night to find a burger waiting for him. HUGS to you!
I am so thankful for my friends from my Moms Group! They've been so supportive and loving thru my bed rest time. I can't wait to return the love to each of them!
Here's a picture from our last get together. Micki and Dina came over with their sweet girls to keep us company.....and you know we had to eat too. Isn't it funny how women like to eat whenever they get together. Throw in a chick flick and you've got a perfect evening.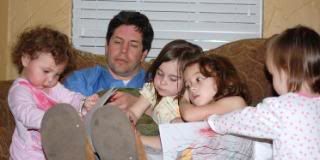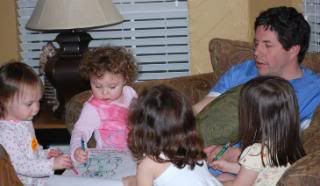 The girls were very excited when Michael got home to color with them. We also got to finish our chick flick uninterupted. ;o) Aren't they so stinken cute?!