We had the best time getting our little surprise ready for Michael for Father's Day! Michael had to work all weekend so we decided to bring the party to him. We made everything ourselves right down to the personalized napkins. Sorry about the poor quality pictures! The battery was almost gone so was milking it.
Little Michael and Ellie making their famous Chocolate Chip Cookies.....look below you'll even see some finger licking action. :o)
Our picnic ready to head down to Daddy's office. The kids packed it all themselves. They even brought Daddy a new pack of Diet Pepsi,
Pop tarts
and Tortilla chips to stock is
refrigerator
in his office. I thought this was so cute!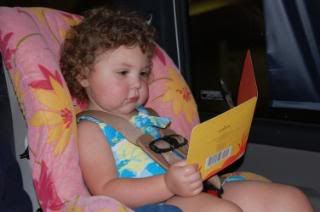 Ellie filling out her Mermaid card for Daddy. "Under the Sea..." The problem was.....she didn't want to give it to Daddy cause she liked the music.
Alexandra filling out her card for Daddy.....or should I say, writing her mini novel.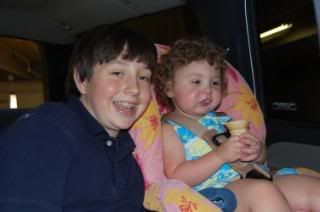 Ellie and Little Michael having ice cream on the way to Daddy office. She was very excited about having ice cream before her dinner. Hope I didn't start something I'll regret!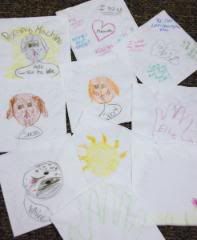 Our homemade napkins made special for Daddy!
Happy Father's Day, Daddy! Thank you for being such a wonderful Daddy to our kids! I am so blessed to have such an incredible role model for our children....you're the best! Love you!