Don't you think it's about time for me to update our blog? Shame on me, for letting it go so long without sharing something about my cuties!
As many of you know, I've been on bed rest for the past 3 1/2 weeks. My doctor was concerned with our little man making his appearance much too early. He put me on bed rest at 31 weeks. At that time, my sweet baby boy weighed just over 3 lbs so we needed him to stay put and keep baking. It was even too early to turn the foil back. :o)
I am so thankful for my dear sweet husband and oldest daughter Alexandra. They've both been so helpful and loving....and how can I forget patient with me! Ellie has been a sweetie, too! She doesn't understand why Mamma can't carry, lift her or go out and play.
We've been trying to find things that Ellie and I can do while Michael and Alex are gone and me still stay in bed or on the sofa. Alexandra has been doing extra activities with her too when she gets home from school. Today, Ellie and I made colored paper Easter eggs. She was so excited! I'll keep you posted on what we come up with.
So......since I'm here on bed rest there is no reason that I can't stay up on my blog.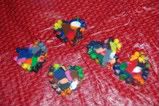 KCBI takes homemade Valentine's to the kiddos at Children's Medical Center, Scottish Rite and Parkland's Burn Unit. I first heard of this program when I worked in the Burn ICU at Parkland.
We made Valentine's with some of our friend's from my Mom's Group for the project. We had more fun and the kids did such a great job! Ellie & I mailed 72 Valentine's off to KCBI and were so excited!