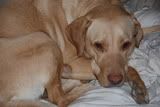 This is CiCi our 3 year old Lab/Pit mix. She's Alex's buddy and yes....another toddler in the house. She's our portable vacuum cleaner....anything left on the floor is fair game for CiCi to pick up and carry out into the yard. I'll give you a hint....don't ever leave your panties on the floor.
This is Jessie our dalmatian or for short "Mamma's baby." She is our pup with the rare auto immune disease. Look for her case in upcoming vet books.....not a role you want to strive to achieve. She has the Genius Book Record for shortest time to clear a counter clean. One of these days, I'll learn to put our bread out of sight.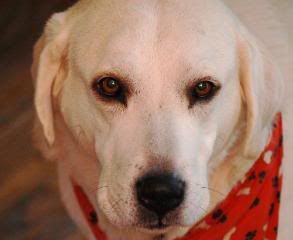 This is Jenny or Jen-Girl as she's frequently called. She's our lab/Pyrenees mix that we rescued 9 years ago from a pound. She's a "Daddy's Girl" for sure! She keeps our UPS man in line. :o) If you ever come to our house and find a package at the end of the walkway, you know Jen barked at the UPS man. She's got the strength to drag a leather recliner across the room and block the front door if you leave her alone.....okay, that was 8 years ago and she's grown to be comfy here but it's still funny. She our gentle giant weighing in at a mere 115 lbs. :o)
Bailey is our 15 year old Cocker Spaniel. He's been Alex's buddy since she was 4 so he's faithful. He's been sleeping on her head for years now and loves it. He's now like a teenager with his selective hearing problem. If the dogs are barking, he's the last one around the corner to add his 2 cents. Ellie loves to hug on him!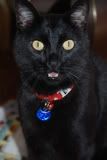 This is Sammy our vocal kitty! He doesn't know a stranger! I'm never alone in our house as Sammy will hold a conversation with me as long as I make eye contact and talk to him. It's pretty cute! He loves to snuggle up to my preggers belly and with Ellie.
We also have a gray tabby named Zachary but he refuses to come out and have his picture taken. So, use your imagination......he's gray & white striped tabby with the most beautiful blue eyes that will melt your heart.
All of our pets were rescued from various bad situations and have become part of our family. They are all so good with the kids and are quick to come and tattle if Ellie is into something or crying. I know there's a lot but we love them all.....that is until they get in trouble. :o)