We had a great Easter celebration at home after Daddy got home from work. I guess that's the beauty of having a child too young to know that the Easter bunny is supposed to come the night before & that you hunt for your basket before church. :o) We wanted to be sure that Daddy didn't miss all of the Easter events since he was on call all weekend. So, the Easter bunny came while she was napping....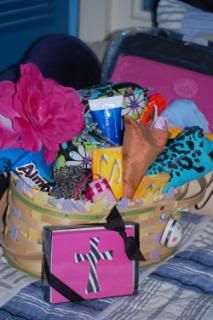 Alexandra's Basket......The Easter Bunny was trying to drop a hint to get better at writing thank you notes. ;o)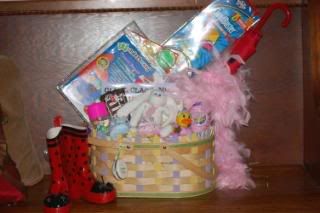 Little Misses Easter Basket......she loved her Melissa & Doug magnetic puzzle & Rain Boots. We're talking hours of playtime.
I had to show off her little bunny....Isn't it cute?! The darn Easter Bunny just added another night time sleeping buddy to her entourage in our bed every night. I think I may need to move into her room.
Can you tell the rain gear was the hit? What do you mean Mom....it opens just fine in the house.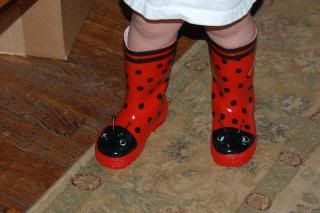 She wore her boots all night last night and all day today with just a diaper. I think we've created a new fashion trend.
Everybody wanted some of Daddy's basket.
Picture of playing with Melissa & Doug Magnetic Puzzle. We're talking over an hour of playtime for our toddler. She woke up asking to play with her fish puzzle so worth the purchase!