It's that time of the week and Ellie was ready for her muffin tin meal. We talked about it at bedtime last night and she reminded me at breakfast. She actually helped me pick things for her MTM lunch.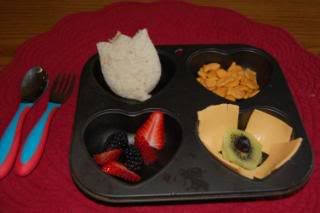 top left: tulip shaped pb & Mamma's homemade jelly, mini goldfish
bottom left: blackberries & strawberries, flower made of cheese petals & kiwi center with a touch of purple grape. Of course, she also wanted her milk in her sippy with the zebra print.
She's loving her lunch.......thanks, Michelle for this great concept!
You'll love it!