Isn't he a cutie!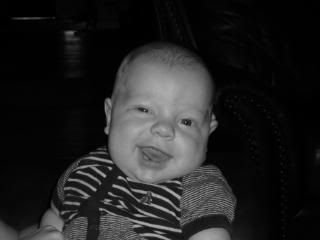 Look, he's already being entertained by Alex!
~~~~~~~~~~~~~~~~~~~~~~~~~~~~~~~~~~~~~~~~~~~~~~~~~~~~~~~~~~~~~~~~~~
We started a new project to try and "improve" Ellie's behavior. Okay, stop laughing, I know she's a strong willed two year old but I'm also a determined Mamma.
I bought some fun stickers that I know she'd love.....Mickey Mouse and fashion related stickers. I loved it when she picked out the fashion stickers. :o) We made a chart with 10 circles or squares (depends on what shape we're working on for the week.) For doing her chores such as picking up her toys, helping to feed the dogs, putting the soap in the dishwasher & starting it, putting her Daddy's Diet Coke cans in the recycle....he's leaves them everywhere and she loves gathering them. She also gets a sticker for good behavior if we go to the grocery store or the bank, etc. When she reaches the goal of 10 stickers, we get to go and do something FUN!
Here's a picture of our 10 sticker trip for Ice Cream. She was very excited that just her and Mamma were going for ice cream. We had a great time!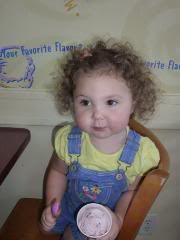 Notice.....she got two different servings of ice cream. I thought she'd like Strawberry ice cream and nope...."Strawberries too cold, Mamma." It's a good thing the lady working the counter liked her cheeks. She gave her a soft serve cone when she saw the tears.
I love this system and it seems to be helping her outbursts.