We love our Muffin Tin Monday! We've been off for a bit but are back in full swing! We've missed everyone! I wanted to try to introduce some new flavors for our theme. Here we go.....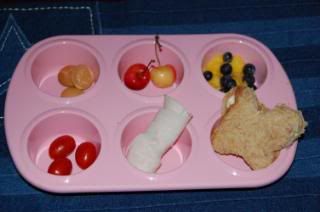 On her 4th of July placement, top left/clockwise: mini vanilla waffers, cherries, blueberries & mangos, peanut butter & banana butterfly sandwich, turkey roll, little cutie tomatoes. Mangos were a totally new food and peanut butter & bananas were a new combo.
Ellie loved helping make the sandwiches!
Verdict is in: she like both new foods!
Go to Her Cup Overfloweth and check out additional MTM'S.
http://michellesjournalcorner.blogspot.com/