Ellie and I had another great day! Our plan was to work on the first two letters in her name. We were going to cut out the "E" and the "L" and glue marshmellows on them. Well, I forgot that she loves marshmellows so wasn't a good idea. She first tried to eat them....than got upset when I dipped them in glue. :o)
So, Mom had to do some quick thinking as the glue was down on the "E." Back to the faithful bag of Pom Pom's. She had a great time filling the letters with spring colored pom poms.
Look at me go, Mom!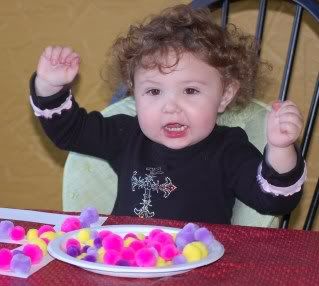 Yippee.....I'm almost done with my "E!"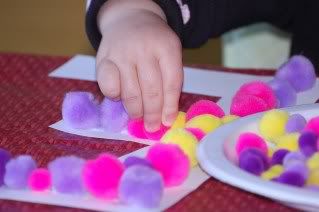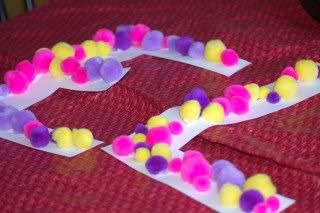 She was tired of the glue on her fingers by the time she finished her second letter. :o)
~~~~~~~~~~~~~~~~~~~~~~~~~~~~~~~~~~~~~~~~~~~~~~~~~~~~~~~~~~~~~
We reached a milestone today......Week 36 of my pregnancy! We are so excited and praising God for each day that Christopher stays put and continues to grow. Thank you, Lord for answered prayers!