We had another Muffin Tin Monday and loved it! Ellie woke up asking for Muffin Tin. It was so cute! We had to move our big meal to dinner with my doctor's appointments today but still had so much fun! The theme was Spring/Easter.....we focused on foods that remind us of spring. With being on bed rest, I wasn't able to go shopping for some cute Easter ideas. But you know what, she loved what we did and once again cleaned her plate and had fun over dinner. Thanks so much Michelle for this great idea! Check her blog out....you'll love it & find yourself checking it everyday!
http://michellesjournalcorner.blogspot.com/
Sorry for the poor quality pictures. She wanted to dig in and not wait for Mommy to take pictures. :o)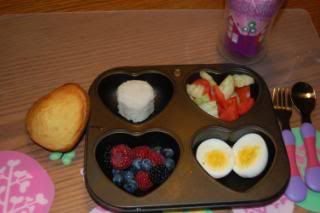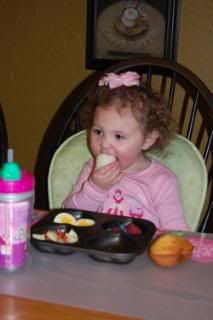 Ellie ate her first serving of rice and loved it. I guess it helps to make it into the shape of a little girl with one of my bento molds..........Sneeky Mommy!