As most of you know, we love, love baseball and love our Texas Rangers......no matter how bad they are.....Opps, I mean good they are. :o)
Alex, Ellie, Alex's Friend Rachel and Daddy were headed out to the Rangers vs Yankees game on Wednesday. Ok, we thought the Rangers could use our prayers on Wednesday. I'm sure God will understand as I'm sure He was praying for them too. I mean, the Yankees are the hottest team in baseball at the moment so we need all the prayers we can get.
Look at Ellie's little "going to the ball park" skort. We just love it! I found it on Etsy and am hooked on this ladies work!
http://www.etsy.com/shop.php?user_id=5803027
Check her out! She'll make anything you desire and each piece is an original so no other child has one that looks like yours.....she also made Ellie a "jewelry" denim dress! She's one talented Grandma! Be sure to tell her Stacey sent you.
All had a great time, well....except the Rangers! We lost but.....we'll get them next time!
Check out the back pockets....It's a set of denim overalls made into a skort.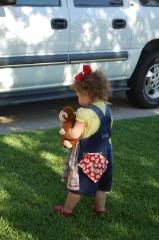 Here's the pocket on the other side. It's supposed to look like a baseball bandana hanging out of her pocket.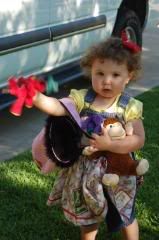 The baseball fabric on the front makes a skirt. Ellie had to take "all" of her Wabbas with her to the game and her monkey. Let's see......how many things does it take to get a toddler into her carseat to go to the ballpark? ;o)
Sisters are ready to go! Take me out to the ball game!