You're not going to
believe
this.....my parents traveled here to meet little Christopher, catch up on play time with Miss Ellie and college visit with Alexandra......drum roll.....it was a holiday weekend! For those of you that know my parents, you know my Dad is
adamant
about not traveling on holidays. This has always driven me crazy but now we found a solution! You leave super early a couple days before and leave the day before the holiday. Dad was happy, I was happy and best of all....the kids had a great time!
Check out the action shots.....Ellie keep Dad (Papa) busy the entire time. They played puzzles, read books, potted flowers and played in her kitchen. Wasn't it great, Dad.....You ate loads of "Ellie food" and didn't gain a pound. You got to love that! Ellie even woke up in the morning asking, "Where Papa?"
It was also nice to have any extra set of hands comforting Christopher's upset tummy! Thanks, Mom! This reflux thing has been terrible for my little man and way too many sleepless nights for Mommy and Daddy. I feel so bad for him! My constant prayer has been for God to ease his discomfort and bring him rest. Hang in there, Little Man!
Alexandra was so excited to share
DBU
with Daddy, Papa and Ellie! It was so cute! So, off they drove on Saturday to check the gorgeous campus out. I wanted them to take some pictures but looks like I have to go myself to get any photos. I was pacing the house with little man and sharing duty with
Mammie
. To say the least all loved the campus so know Alex is excited to make an appointment with her
counselor
on campus to make sure she's on track to transfer. I love seeing her so excited about her future!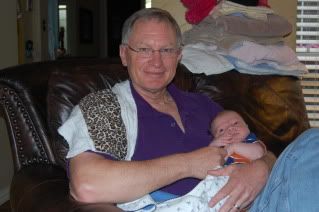 Papa meeting little Christopher
Papa and Ellie reading. I think they read 6 or 7 books in that sitting alone. She just loves to hear stories and
Mammie
brought her a new book.
Exhausted after potting 6 plants for
Mamma
. Thanks, Girls for your help.....and Papa too!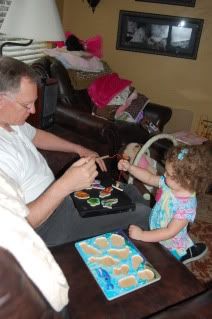 Puzzle Time.....if you've never seen these puzzles by Doug and Melissa, they're wonderful and will bring you hours of quiet time. They have magnets and a fishing pole or another has a butterfly net. Ellie loves these!!!
The kids weren't the only family members excited to see Mammie & Papa....Sammy couldn't wait to snuggle up with his friend.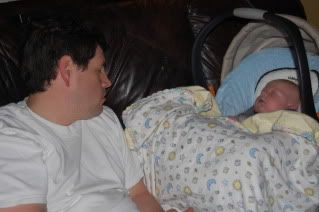 As you can see, sleep is a precious
cometary
around here these days. Daddy catching a cat nap while little man snoozes. Aren't they cute?!
Sorry for the randomness of the pictures and my story telling. Diva Mamma is running on low but so grateful for the reasons that I'm tired. :o)