This has become Ellie's favorite meal of the week. When I ask her, "Guess what we're doing tomorrow?" She gets so excited and repeats...."Muffin Tin Day!" We have more fun! Thanks Michelle for another fun idea! If you've never spent time reading Michelle's blog....It's AWESOME!
http://www.michellesjournalcorner.blogspot.com
The theme this week was, " Make your own theme." We decided to do a "Food that Animals Eat" theme and work on matches the animal to their food. This is where her little people animals came into our fun. And of course, with Ellie we had to include the sound the animal makes. She loves making animal noises. We had more fun!
We thought it would be fun to do our Muffin Tin for dinner so we could include Daddy. Daddy always wonders how our Muffin Tin events go so we decided to include him. You'll see by the pictures that Ellie "really" included him. :o)
from top left: peas are from the rabbits, banana slices from the monkeys, Cherrios from the duckies, Bunny shaped Cheese Toast from Mommy, Pasta with meatball from the piggies "slop" bin and avocado slices as grass for the cows.
Notice the little animals looking on.....okay, I lost her little people pig so had to reach for her bank.
We had an extra space in our muffin tin, so I added a piece of cheese bread cut into the shape of a bunny. Ellie was so excited when she figured out what it was. :o)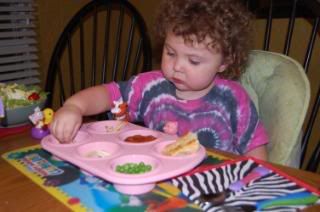 Matching up her animals to their food. We had so much fun! It was a "noisely"meal. hehehe!
Now it's time to feed Daddy......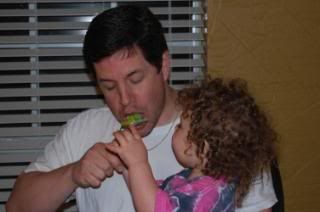 Sorry, Daddy.....forgot to tell you that we help feed each other during our Muffin Tin Meals. :o)
Ellie got a new Baby from Mammie & Papa in the mail.......She loves her! She named her Emily. She's so cute with her. She mimics what I do for Christopher.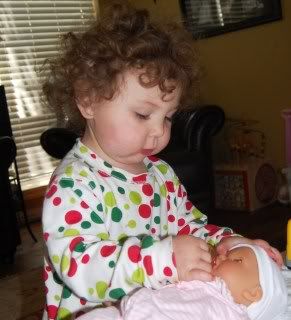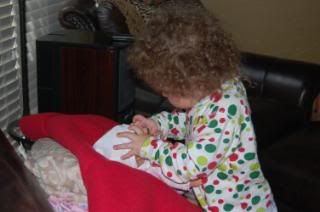 You gotta love her pacificer technique. I promise I don't use the same technique for Christopher.