I can't believe it's already time for Muffin Tin Monday.....I love doing these because Ellie gets so excited for lunch! We've actually per Ellie's request added Muffin Tin Wednesday and sometimes Friday too. :o)
There wasn't a theme this week so we used a spring theme since we'd spent time this weekend planting flowers. If you have a chance, check out the other muffin tins on Michelle's blog. (Her Cup Overfloweth) You're kids will be glad you did!
http://michellesjournalcorner.blogspot.com/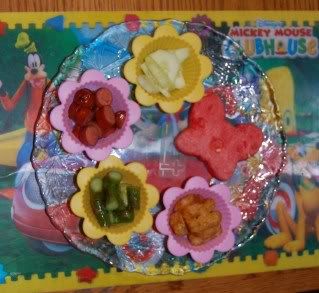 Ellie was so excited about the new flower muffin cups! Thanks, Michelle for the idea!
We had: watermelon in the shape of a butterfly, alphabet tater tots cause we're working on our letters, asparagus, hot dog (or dot dogs as Ellie calls them) and cucumbers. All of our food started with the first four letters of the alphabet and our tots we're to remind her that we were working on our first four letters. She loved our theme!
***Remember, Ellie calls hot dogs dot dogs so I've got my "d" covered. :o)